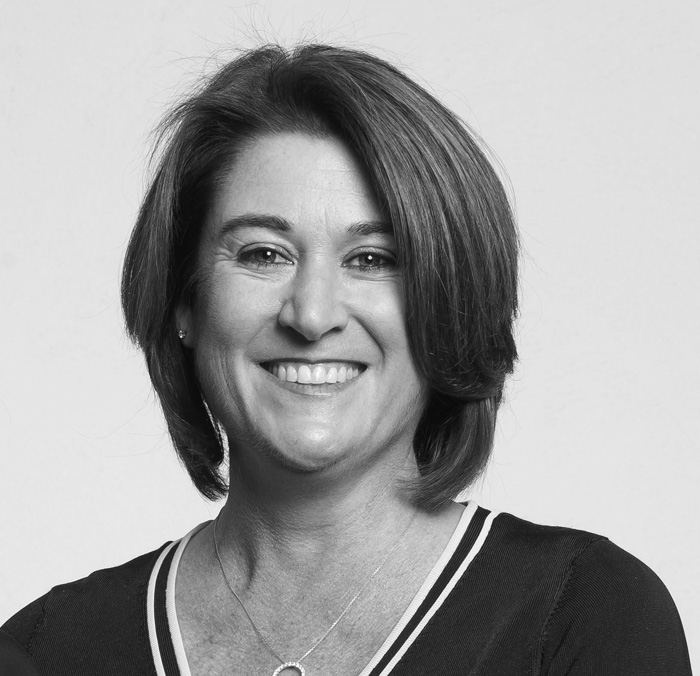 Practice Manager – Katrina Arcus
Katrina Arcus has been with Hunters Hill Medical Practice since 2009 and has been the Practice Manager since 2014. During this period, the practice has experienced significant growth and achieved many milestones.
From humble beginnings on the front desk, Katrina always took on extra responsibility and worked in an organised manner. Since then she has completed a Certificate IV in Professional Practice Management through the University of New England. Katrina introduced innovative systems to the practice such as online bookings and self-check in. Her leadership has culminated in Hunters Hill Medical Practice being awarded the prestigious AGPAL Chairman's Practice of the Year, a national award based on quality, systems and innovation.
Katrina believes in doing the best for the patient. She is married with 3 incredibly sporty teenage children. When not at work, Katrina is relaxing by the water or watching one of her children compete at various sporting pursuits!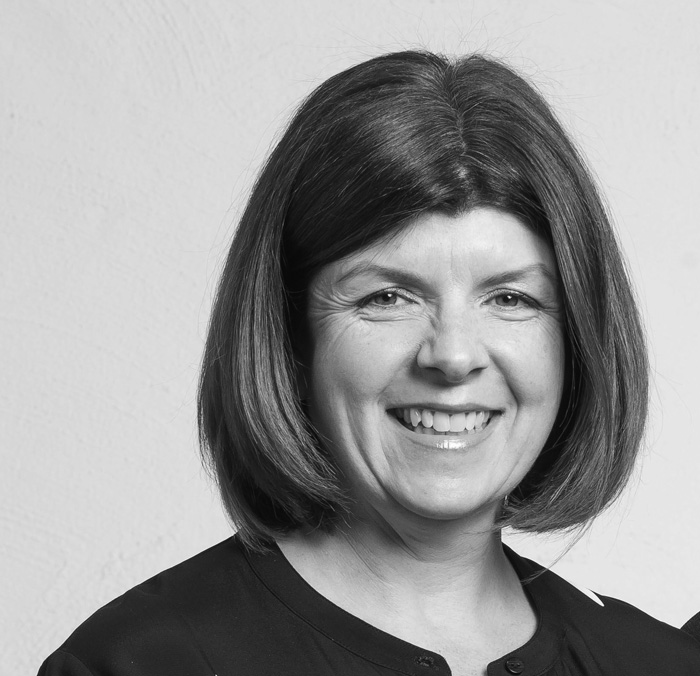 Office Manager – Leigh Davis
Leigh has always been part of the Hunters Hill community having grown up locally and having her children attending local schools. She has worked in multiple executive assistance rolls including with Ernest and Young, Parramatta City Council and for a minister in State Parliament.
She has been with Hunters Hill Medical Practice since 2012 and office manager since 2014. She oversees the office and reception operations and is committed to making our patients and their families experience in our practice a positive one. Leigh is always happy to answer your questions or help resolve any concerns you may have.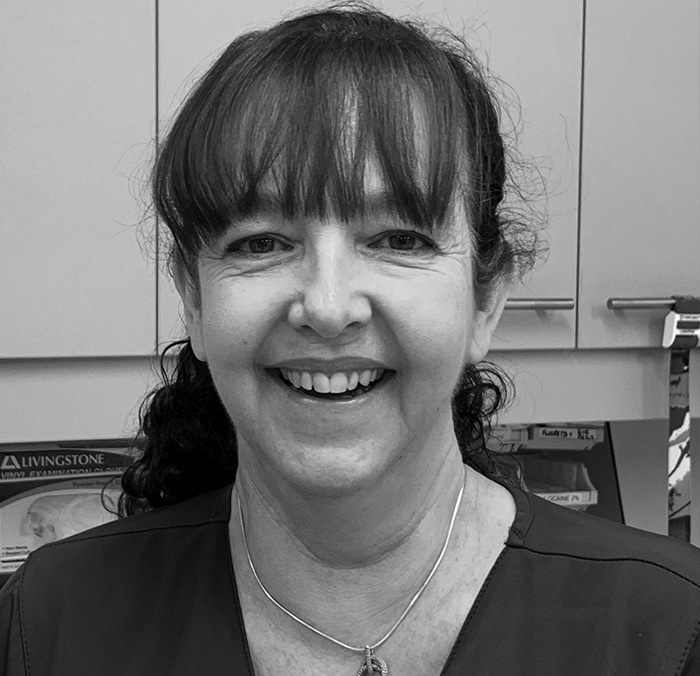 Gabbie is the latest addition to the HHMP nursing team she comes to us from Concord Hospital with a background in palliative care, neurology and emergency nursing. Gabbie has a friendly disposition and her special interests in diabetes and wound care. When not at work Gabbie is with her four children, two cats and her dog.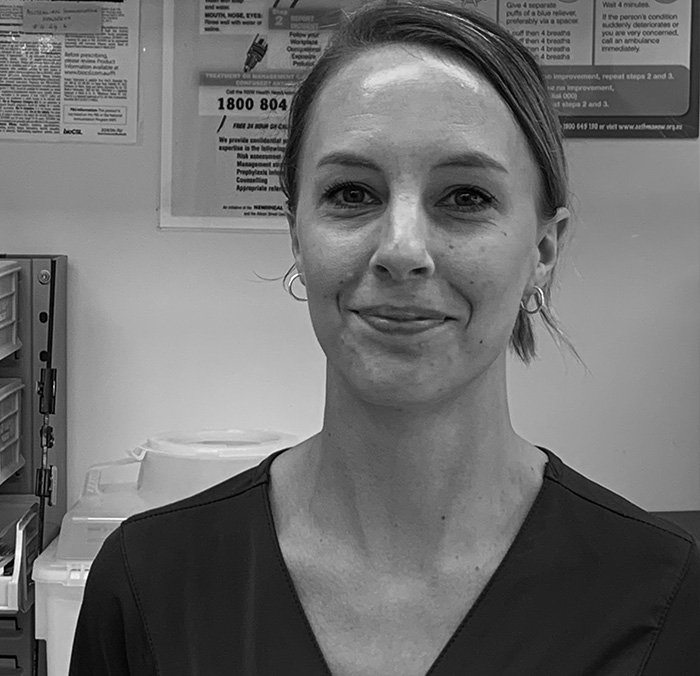 Following her university studies, Tess started her hands-on nursing career with HHMP. She is a caring nurse with an easy approach and an efficient manner. Tess is currently studying a Masters of Nursing at Charles Sturt University, majoring in Emergency Nursing. She is married and a busy mum to three young children.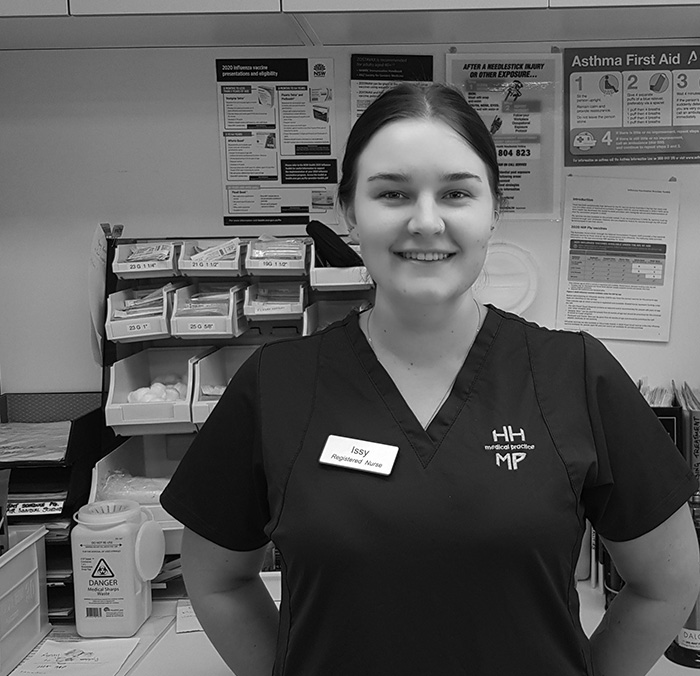 Registered Nurse – Isabelle (Issy)
Izzy has recently joined the HHMP team for her graduate nursing year in General Practice. She enjoys the continuity of care offered in General Practice and has become a popular member of the team. Izzy is always willing to take on extra tasks and do the best by her patients.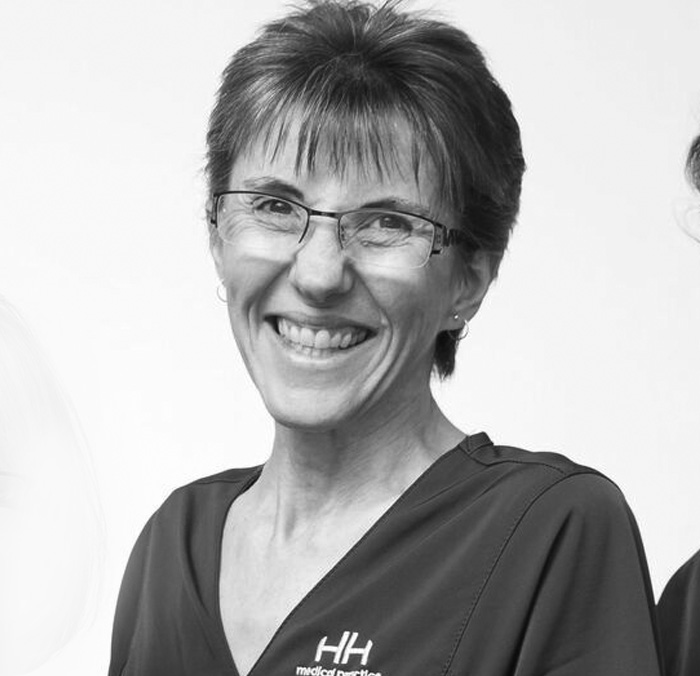 Having previously worked on general wards, Lynda focused on community cardiology before joining the HHMP team. Over the last 10 years she has worked in the treatment room, doing diabetic clinics and most recently as our care coordinator. Lynda is extremely creative and her works are often seen around the practice.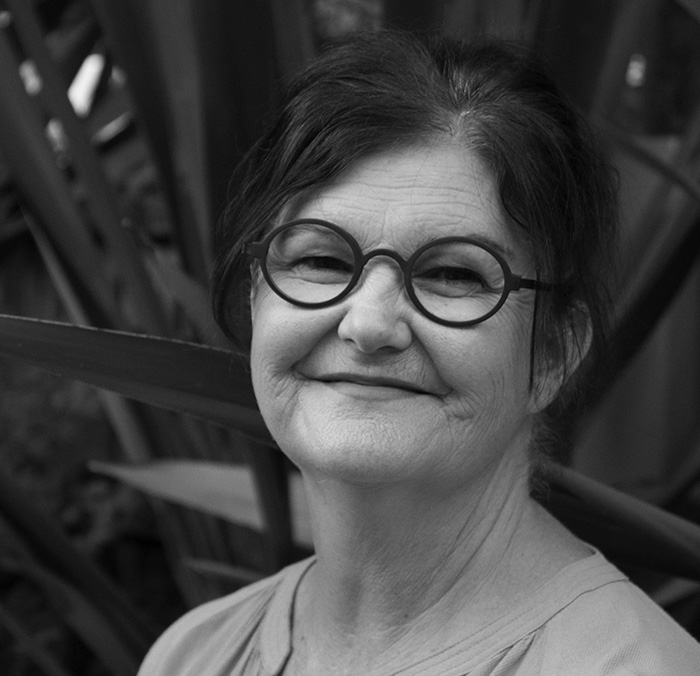 Melanographer and Registered Nurse – Inga
Inga has had an interesting and diverse nursing career over more than 30 years. She started in cardiothoracics and has worked in public and private hospitals, general practice and schools.
She worked at The Melanoma Institute for 5 years under the guidance and mentoring of some of the country's best skin cancer doctors, forever grateful of the teaching and guidance they provided. She has enjoyed participating in and learning for the Certificate of Melanography through the Australian College of Dermatologists. She currently runs biopsy clinics at Royal Prince Alfred Hospital, works in a dermatology practice and runs the Molemap skin cancer check clinics at Hunters Hill Medical Practice where she performs comprehensive skin cancer checks and uses dermoscopy to identify, monitor and photograph skin lesions. She concludes her consults by spending considerable time educating patients on Sun smart behaviors.
She has enjoyed 3 years being the NSW State Representative for The Australian Dermatology Nurses Association and has since taken on a representative role with the Coalition of Nurses and Midwives Associations. She has found her time on such committees very engaging and an important way to contribute to her profession.
Her dermatology interests include skin cancers prevention and sunscreen use.  Outside work, she loves finding new parks and beaches to run her dogs, reading and watching her boys play AFL. Inga's goal is to keep working in Skin, due to its vastness and learning opportunities.