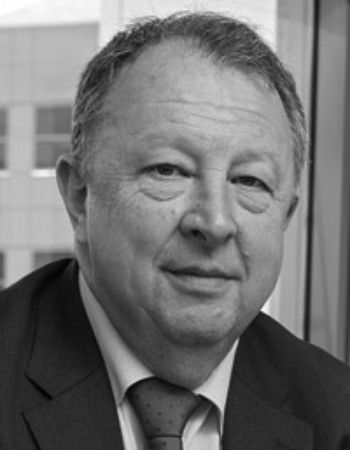 Professor David Gillatt
MB ChB FRCS MS FRACS
UROLOGIST AND ROBOTIC SURGEON
Leading UK prostate cancer surgeon Professor David Gillatt has taken up the permanent positions of both Professor of Urological Oncology and Robotic Surgery and Director of Medical Services at Macquarie University Hospital. Professor Gillatt is recognised as one of the world's foremost robotic surgeons in the treatment of both prostate and bladder cancers, having performed more than 2000 major resections in his career. He also has expertise in the discovery and optimisation of biomarkers for early prostate cancer diagnosis and prognosis, and in the effect of ketamine abuse on bladder function.
Before joining Macquarie University Hospital, Professor Gillatt was Clinical Director of Urology at Southmead Hospital and Medical Director of the Bristol Urological Institute, where he established the Prostate Cancer Care and Research Centre. The centre has gained a national and international reputation as one of the foremost research organisations for urology in the UK. It integrates teaching, research and clinical practice in urology. Professor Gillatt brings this experience to Macquarie University Hospital where he will provide leadership across both the Faculty of Medicine and Health Sciences and Macquarie University Hospital in the delivery of clinical services, teaching and research. A key focus will be strengthening Macquarie University Hospital's multidisciplinary team approach to prostate cancer care that already sees coordinated services engage all relevant specialties with the aim of delivering outstanding patient care. Professor Gillatt welcomes new patients, practicing from his rooms at Macquarie University Clinic and Hunters Hill Medical Practice. He performs robotic surgery at Macquarie University Hospital in North Ryde.
Subspecialties
Robotic assisted laparoscopic urology


Urological cancer reconstruction (Bladder, prostate, testicular, kidney)

Prostate biospy

Cystoscopy

Transurethral resection of the prostate (TURP)

General female urology
Dr Gillatt is available at Hunters Hill on Wednesday every 2 weeks.
To make with appointment with Dr Gillatt, please call 9817 2080
Website: www.davidgillatt.com.au
Urologists are specialist surgeons who treat men, women and children with problems involving the kidney, bladder, prostate and male reproductive organs. A range of conditions of various seriousness are treated and may include:
Investigations for blood in the urine
Recurrent urinary tract infections
Urinary incontinence
Sexual dysfunction
Pelvic floor problems
Kidney stones
Overactive bladder
Kidney Cancer
Bladder Cancer
Prostate Cancer
A range of medical (tables) and surgical approaches are used and tailored to the needs of the patient.  Modern surgical techniques are used to minimise impact on the patient and the advent of robotic surgery has allowed for complex procedures such as prostate resection to be completed with increased safety and better patient outcomes.