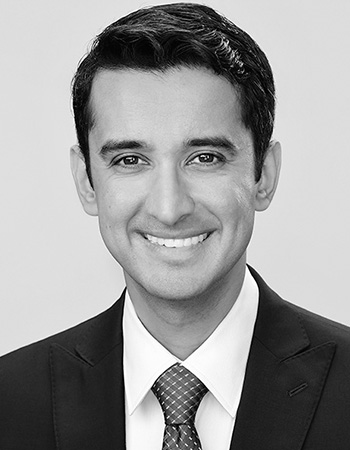 Dr Shagun Aggarwal
B.Sc(Med)MBBS(Hons1), MS, FRACS(Plast)
PLASTIC RECONSTRUCTIVE AND COSMETIC SURGEON
Dr Aggarwal is a Specialist Plastic Surgeon holding VMO positions at Sydney Adventist Hospital, Hunters Hill Private, Royal Prince Alfred, Chris O'Brien Lifehouse, Prince of Wales & Royal Hospital for Women. He is the director of Mode Plastic Surgery based on Sydney's north shore.
Dr Aggarwal's sub specialty interests include cosmetic plastic surgery, and microsurgical (own tissue) breast reconstruction. He also has an interest in implant breast reconstruction, hand surgery and skin cancer surgery.
Shagun grew up in Sydney and graduated as Dux of James Ruse Agricultural High School. He completed his Bachelor of Science and Medical degrees from UNSW, where he was awarded prizes for first place in Anatomy, Practical Anatomy and Medical Pharmacology. His passion and aptitude for anatomy, as well as his interest in art led him to pursue a career in Plastic Surgery. He undertook a year of General Surgery training, followed by 5 years of training in Plastic & Reconstructive Surgery under the auspices of the Royal Australasian College of Surgeons (RACS), resulting in his award of FRACS(Plast).
Dr Aggarwal excelled in his years of training, receiving the John Lowenthal medal in 2010 when he completed a Master of Surgery through the University of Sydney. He was also awarded the Gordon Gordon-Taylor Medal for first place in Australia and New Zealand in the RACS Surgical Primary exams. In addition, Dr Aggarwal was awarded the Australian Society of Aesthetic Plastic Surgeons (ASAPS) Prize on 2 occasions for the best aesthetic essay in 2013 and 2014.
After completion of his Australian training, Dr Aggarwal undertook further subspecialty training in highly sought fellowships abroad. He completed a fellowship in breast reconstruction & aesthetic/cosmetic surgery of the breast, face & body at the University of Toronto, Canada. He subsequently completed a Microsurgery Fellowship at the University of Pennsylvania, Philadelphia, USA, where he performed a high volume of microsurgical reconstructions (free flaps) of the breast, head & neck, upper and lower limb as primary operator. Dr Aggarwal's knowledge, and experience from high volume, low morbidity centres of excellence have been invaluable in delivery of a high quality surgical service to his patients in Sydney. His professional and personable nature result in excellent patient satisfaction both with their surgical results and patient journey.
He continues to be involved in teaching and education. For two years Dr Aggarwal was a representative of trainees on the National Board of Plastic and Reconstructive Surgery. He continues to be involved in the training of future plastic surgeons through his position at Royal Prince Alfred Hospital, and medical students from the University of Sydney at both RPA and Sydney Adventist Hospitals. He is currently the NSW Coordinator for Accredited Plastic Surgery Teaching. Dr Aggarwal regularly collaborates with his colleagues in Australia and North America to publish plastic surgery research in prestigious journals.
Dr Aggarwal is available at Hunters Hill Medical Practice once per month on Fridays.

More about Plastic Surgery
Plastic surgery refers to any type of surgery undertaken to restructure or change the appearance of a body part or characteristic.
Plastic surgery can be broadly categorised as either reconstructive or cosmetic surgery, depending on whether it is done primarily to restore function or to change physical appearance.
Reconstructive surgery is a medically indicated treatment used to improve dysfunctional body parts. While it may also change the individual's appearance, it is instituted primarily to restore function. For example, it can be used to remove webbing from a finger, or reattach limbs severed through trauma.
Cosmetic surgery is initiated by an individual who wants to change the physical appearance of a feature. Although in many cases their physical appearance is normal, they may wish to change the size of their breasts or the shape of their nose. An individual may also use cosmetic surgery to change disfigured body parts and give them a smoother appearance (e.g. scar removal).
Currently in Australia, it is legal for any doctor with a basic medical degree to perform surgery. Specialist Plastic Surgeons, on the other hand, have extensive surgical education and training including a minimum of 12 years medical and surgical education, with at least 5 years of specialist postgraduate training. All surgical procedures carry risk, but you can reduce the chance of risk and complication by consulting a Specialist Plastic Surgeon who is trained, qualified and accredited to perform reconstructive and cosmetic surgery.