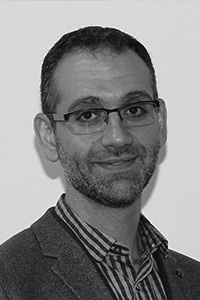 Dr Joseph Chiha
MBBS (Hons), BMedSc, PhD, FRACP, FCSANZ
GENERAL AND INTERVENTIONAL CARDIOLOGIST
Joseph Chiha received his medical degree with Honours from the University of Sydney in 2003. He then completed his internal medicine and adult cardiology training through the Westmead Hospital Network. Dr Chiha was admitted to the Royal Australasian College of Physicians in 2009.Following his PhD, he undertook a 2-year fellowship in complex interventional cardiology at the Peter Munk Cardiac Centre in Toronto, Canada, in association with the Toronto General Hospital. This is a world leader in the diagnosis and management of coronary artery disease. He returned in 2016 bringing his experience and motivation to MQ Health. His clinical interests include integrating diagnostic and therapeutic cardiology and invasive coronary procedures including angiography and stenting. Dr Joseph Chiha is a general cardiologist with sub-specialty training and accreditation in interventional cardiology. His training experience includes all areas of cardiology: – ischaemic heart disease/ coronary artery disease – arrhythmia – heart failure – pre-operative assessment Dr Chiha also has experience in aged care and the renal complications of coronary disease, especially contrast nephropathy and coronary interventions. He is a consultant cardiologist for Douglass Hanly Moir Cardiac Services, responsible for the interpretation and reporting of 24-hour ambulatory blood pressure monitors, electrocardiograms and holter monitors. He believes a consultative approach to cardiology and thorough communication with each member of the medical team responsible for his patients is paramount to excellent care.
Dr Chiha consults from MQ Health Hunters Hill Clinic at hunters Hill Medical Practice once a month on Friday afternoon.
To book an appointment, please call: 02 9812 3967
Cardiologists are doctors who specialise in diagnosing and treating diseases or conditions of the heart and blood vessels known as the cardiovascular system. They can also help patients to learn about risk factors for heart disease and help to prevent poor heart health. Cardiologists often treat patients who have had a heart attack or heart failure and help to make decisions about heart surgery, heart catheterisation and stenting. They also play an important role in the prevention of heart disease and intervene early with testing and advice.
If a person has symptoms of a heart condition their GP may refer them to a Cardiologist. These symptoms may include:
Shortness of Breath
Dizziness or fainting
Chest Pains
Changes in Heart Rate or Rhythm
High Blood Pressure
Limited physical activity
swollen feet
A Cardiologist will generally carry out testing to diagnose a heart murmur or abnormal heart rhythm. These tests may include:
Electrocardiogram (ECG): records the electrical activity within the heart.
Ambulatory ECG/Holter Monitor: records heart rhythms while the person carries out regular everyday activities, patients carry a small monitor with them.
Exercise or Stress Test on a treadmill or bike: shows the changes of heart rhythm when resting or exercising. It measures the performance and limitations of the heart.
Echocardiogram: provides an ultrasound picture showing the structure of the heart chambers and surrounding areas, it can show how well the heart is working.
Some of these tests might be available at the MQ Health Hunters Hill rooms. More complex testing will occur at the Main MQ Health Cardiology rooms at the Macquarie University Clinic.