Cheryl celebrates 35 years at HHMP! 
Wednesday the 12th of October 2022 saw Cheryl, our longest serving receptionist celebrate 35 years at HHMP!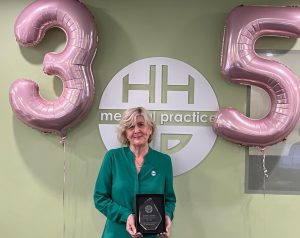 Our longest serving receptionist, Cheryl, celebrates 35 years
Cheryl is a local legend having been at HHMP now for an extended period. She is very well known to local patients and equally knows these patients very well. She is excellent at remembering names, family members and making our patients feel welcome.
Cheryl is indispensable resource to the HHMP doctors and nurses. She has great knowledge of the patients and the practice that is unmatched.
All at HHMP are so glad to have Cheryl working with us.
Here's to 40 years! 😉