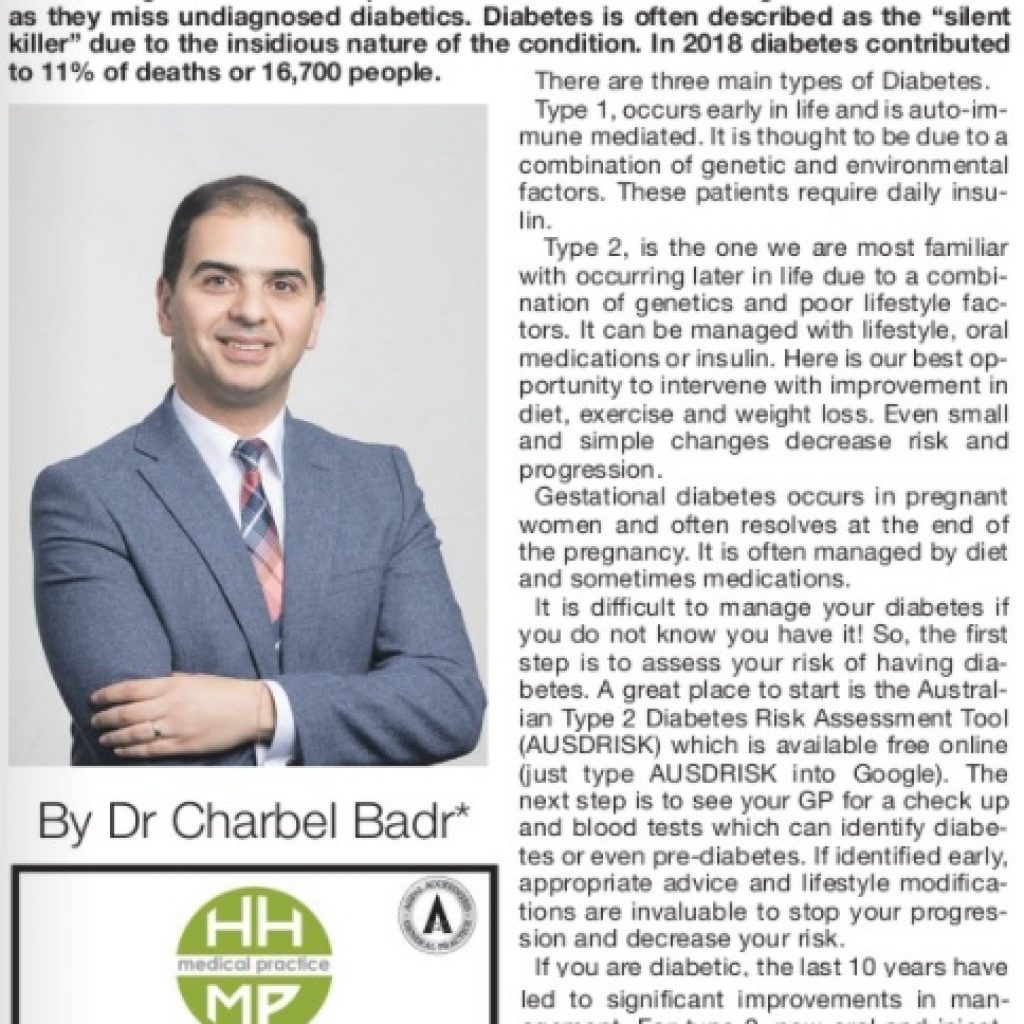 Diabetes: A pain in the pancreas
Below is an Article authored by HHMP Medical Director, Dr Charbel Badr for The Weekly Times (TWT) local Newspaper for National Diabetes Week 2021 and is reproduced here.
The Australian Bureau of Statistics 2017-18 National Health Survey showed that 4.9% of the population or over 1.2 million Australians reported having diabetes. This is a significant national problem with the numbers being an under-estimate as they miss undiagnosed diabetics. The condition is often described as the "silent killer" due to the insidious nature of the condition. In 2018 it contributed to 11% of deaths or 16,700 people.
There are three main types of Diabetes.
Type 1, occurs early in life and is auto-immune mediated. It is thought to be due to a combination of genetic and environmental factors. These patients require daily insulin.
Type 2, is the one we are most familiar with occurring later in life due to a combination of genetics and poor lifestyle factors. It can be managed with lifestyle, oral medications or insulin. Here is our best opportunity to intervene with improvement in diet, exercise and weight loss. Even small and simple changes decrease risk and progression.
Gestational diabetes occurs in pregnant women and often resolves at the end of the pregnancy. It is often managed by diet and sometimes medications.
Early diagnosis is key.
It is difficult to manage your diabetes if you do not know you have it! So, the first step is to assess your risk of having diabetes. A great place to start is the Australian Type 2 Diabetes Risk Assessment Tool (AUSDRISK) which is available free online (just type AUSDRISK into Google). The next step is to see your GP for a check up and blood tests which can identify diabetes or even pre-diabetes. If identified early, appropriate advice and lifestyle modifications are invaluable to stop your progression and decrease your risk.
If you are diabetic, the last 10 years have led to significant improvements in management. For type 2, new oral and injectable medications have been game changers. For Type 1, the invention of the insulin pump, recent miniaturisation, newer insulins and continuous glucose monitoring have been revolutionary. Over the next 5 years the addition of AI (artificial intelligence) to pumps will bring the dream of the artificial pancreas closer to reality.
The best care is patient-centred and delivered by a multi-disciplinary team of GPs, endocrinologists, ophthalmologists, diabetic educators, nurses, care coordinators, dietitians and podiatrists.
A full team of like minded health professionals work together at HHMP to offer you the optimum in diabetic care. These include: GPs, Endocrinologists, Podiatrists, Dietitian, Nurses and a Care Co-ordinator.
For more information Consider the following links: