New fees for Phone and video telehealth consultations as well as prescription and referral renewals without a consultation will start 1 November 2023
Starting 1 November 2023, Hunters Hill Medical Practice will be introducing a Gap fee for telehealth consultations. This will include both Phone and Video telehealth consults. Such a fee was previously flagged to be introduced in February 2023, but was delayed by 6+ months while the changes were communicated to patients.
With telehealth now a permanent offering post-pandemic, there has been an increased shift towards electronic consultations with these requiring the same time as in-person consults and thus occupying quite a large slice of a doctor's appointment book. Many practices including local practices currently charge a gap for telehealth consultations. Such consultations currently attract a Medicare rebate for Medicare eligible patients.
Are telehealth consults bulk billed?
Doctors working from HHMP have accommodated online consults during the height of the pandemic by only accepting telehealth Medicare rebate (bulk-billing). The main focus was on patient access and service delivery for the community. We continued this service for 3 years now which has been a significant strain on doctors and practice resources. Such
Telehealth bookings block 15 minutes in the doctor's day, yet by bulk billing these, the doctor is accepting less than half their usual fee. In order to continue to focus on quality, a desire to allocate appropriate time and significant cost inflation makes universal bulk billing no longer possible.
Please be assured that staff and doctors working at HHMP understand that patients face the same inflationary pressures and have spent a long time working out ways on streamlining this process and trying to keep gap costs to a minimum. As such, telehealth consult gaps will on average be about 15% below the usual in-practice gap fees. Consultations will be able to be booked by using the booking link on our website, by downloading the AMS connect App (Apple or Android) or by calling 9817 2080. Please see the example below for more information.

An example of how the fees will work for a standard consult from November 2023
The most common consult both in person or via telehealth when you see a GP is the "Standard Consult". The example below will help you understand the gaps.
The Medicare rebate for a standard consult is about $42.
The doctor's fee at HHMP for an in-person standard consult is $105 (so $110 – $42 = $68 gap).
The doctor's fee at HHMP for a telehealth standard consult will be $90 (so $95 – $42 = $53 gap).
Those in need will continue to be bulk-billed ($0 gap) using a tighter criteria that will be constantly reviewed.
Other consultation types
These gaps will be smaller than the example noted above (less than $50) for a brief consult and larger (more than $50) for longer consults or mental health plans and the like.
The fees and gaps are proportionate to the length of the consult and resultant Medicare rebate.
New fees for Prescription and referral renewals without  a consultation will start 1 November 2023
The other significant change to fees is that doctors working from HHMP will begin charging for Prescription requests and referral requests conducted without a consultation. Such a change was flagged to begin in February 2023, but again this was delayed by 6+ months while this was communicated with patients.
Prescription and referral renewals can be requested via our home page by clicking on the appropriate button or by using the AMS Connect App (Apple or Android). A set of rules will be displayed to make sure that prescriptions and referrals are issued in a professional and safe way. Some examples of the rules are listed below
Only current practice patients can make such requests (not suitable for new patients).
Patients need to have been seen in the last year.
The referral of prescriptions is one that the patient has been given before.
No referrals to new practitioners, antibiotics for acute illness, benzodiazepines, opioids or the like would be issued.
No more than 3 prescriptions or referrals would be issued at any one time (prescriptions and referrals are charged separately).
The usual turn around time in 72 hours (3 days) and urgent requests are done in about 24 hours (1 day).
What are the costs for prescriptions and referrals
Costs will be affected by the delivery method (electronic vs pick up vs mail) of the request and the urgency of the request (72 hours vs 24 hours).
Prescriptions (for up to 3 scripts): $20 for electronic delivery (SMS or email patient or pharmacist), $25 for pick up from practice and $30 for snail mail or same day request.
Referrals (for up to 3 scripts): $20 for electronic delivery (email patient or specialist), $25 for pick up from practice and $30 for snail mail or same day request.
Credit card details will need to be entered in-advance into a secure payment gateway (we do not hold your credit card details) and the patient will only be billed if the request is issued. If the request is declined patients will not be billed. Patients will receive an SMS advising them if their scripts or referrals have been issued or declined and an appointment is required.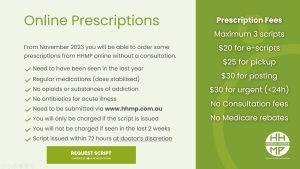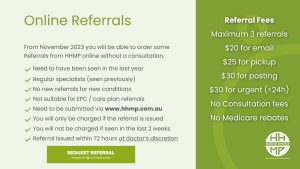 In the interest of quality care and safety, the doctors working from the HHMP rooms have agreed to a relatively strict criteria. You may have a request declined, in that case, it is because your doctor feels it is best for your health / care for you to make an appointment for example if not seen recently enough, if a blood test is required before a script is issued or if a prescription has been discontinued etc.
We are here to help
Doctors working at HHMP have always focused on quality of care and providing patients with the time they need to properly address their concerns, no matter if they are privately billed or bulk-billed.  It is impossible to provide a quality service with a focus on medical excellence without charging a gap. That said, the staff and doctors at HHMP endeavour to assist those in need with reduced fees or bulk billing for select patients on a case by case basis. Please discuss this with your doctor.
If you have general questions about billings please speak to our reception team. Specific issues should be discussed with your doctor. Please call us on 02 9817 2080.